August 2021
New HEINZMANN drive revolutionizes CO2-neutral "last mile" transport logistics.
Schönau im August 2021 –
Technology leader HEINZMANN has reached a new milestone in the trend towards CO2-neutral logistics. Thanks to more power, the double HEINZMANN e-drive "CargoTwinPower" revolutionizes sustainable delivery with cargo bikes on "the last mile" to the end customer's front door. 80 percent of HEINZMANN customers worldwide already rely on the "CargoTwinPower" solution.
The "last mile" is the biggest cost factor in urban transport logistics and poses major challenges for the German courier, express and parcel industry. Due to the booming online trade, the transport volume of logistics companies is increasing at an unprecedented rate. HEINZMANN Managing Director Peter Mérimèche affirms: "The sustainable solution for the future is electromobility and thus cargo bikes and urban vehicles." Thanks to delivery with electrically powered cargo bikes, CO2 emissions are reduced by 90 percent compared to diesel vehicles, urban traffic is less polluted and deliveries are delivered to their destination 60 percent faster than with a delivery truck. These were the findings of a recent study by the University of Manchester.
HEINZMANN presents the technical answer to the ever-increasing demands of the industry with the "CargoTwinPower". Thanks to more torque, cargo bikes with the HEINZMANN drive can transport a significantly higher weight to the destination. The e-mobility pioneer is thus also revolutionizing urban transport logistics in terms of efficiency, flexibility and safety. Under the highest demands of continuous commercial use, "CargoTwinPower" ensures maximum utilization thanks to the innovation of two-wheel hub motors with a rated power of two times 125 W and a total of 226 Nm of torque. This also makes it easier for drivers to handle the cargo bikes, which can weigh up to more than 500 kilograms.
Until now, steep roads have posed challenges for drivers. With HEINZMANN's powerful drive concept, cargo bikes overcome inclines effortlessly and have the necessary power when starting up. In addition, "CargoTwinPower" offers new flexibility and safety in urban traffic with the first integration of reverse gear in an e-drive.
HEINZMANN's performance promise is proving successful in the market: "Almost 80 percent of HEINZMANN customers worldwide already rely on the CargoTwinPower solution," confirms Managing Director Peter Mérimèche. A market of the future for the e-mobility pioneer: HEINZMANN records an annual increase in sales of 30 percent in the field of electric drives. This underscores the Black Forest manufacturer and system provider for motor technologies of the future's position as a world-class technology leader, regional economic factor and employer with high innovative strength and development expertise.
Visit HEINZMANN at EUROBIKE from 1 – 4. September 2021 at booth A6-208 and experience the CargoTwinPower during test rides in the Demo Area East (booth FG-0/101).
More product information about the CargoPower and CargoTwinPower at >> CargoPower E-Bike Motor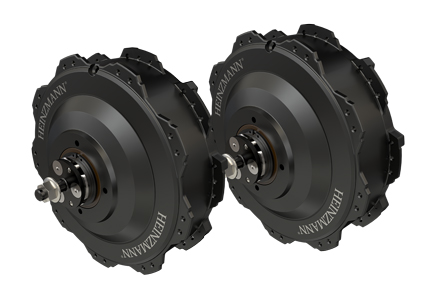 CargoTwinPower Motor RN 111
(Source: Heinzmann GmbH & Co. KG)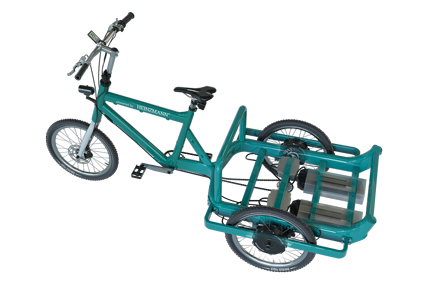 CargoTwinPower Motor RN 111 application multi track vehicle
(Source: Heinzmann GmbH & Co. KG)
Contact and press requests: This email address is being protected from spambots. You need JavaScript enabled to view it.