June 2018
Transport logistics over the "last mile" in major urban centres is changing. Thanks to the huge advances in technical development, instead of vehicles with traditional diesel engines we are increasingly seeing two and three-wheeled vehicles with electric drives being used.
Wherever large loads have to be transported directly to customers' front doors, modern electric cargo bikes are proving to be a superior technical solution, offering impressive power, flexibility, reliability and environmental friendliness, along with significant cost advantages.
Super strong and reliable: the CargoPower package
At Eurobike 2018 in Friedrichshafen, HEINZMANN will be presenting its CargoPower RN 111 motor, which is perfect for these applications. It combines innovative technology with a very robust construction. One of the key features of the drive is its very high efficiency over an exceptionally wide speed range. Particularly with frequent stopping and starting and on long inclines, this has significant advantages over conventional drives when it comes to range. It operates extremely reliable and is particularly suited for heavy load applications.
Also notable is the torque of up to 111 Nm that the motor can generate, which is applied directly to the drive wheel and not initially to the pedal crank, as is the case with other common mid-mounted motors. Its nominal speed range is from 190 to 270 rpm. Thanks to this power delivery, and with wheel diameters of 20 to 29 inches, bikes can reach a speed of 25 km/h with no problems.
The high torque and power density are achieved due to a high-performance planetary gear, combined with innovative oil lubrication and oil cooling.
Suitable for all bike types
The CargoPower RN 111 is the most compact and lightweight motor in its performance class and therefore fits any bike type.
Its dimensions enable installation in standard forks or standard drop-outs. Both rear wheel and front wheel versions are available, as well as a version with one-sided suspension. The electronic control and the battery nominal values are specially tailored to the powerful drive.
Discover and test!
At this year's Eurobike trade fair in Friedrichshafen, which will be held from 8 - 10 July 2018, our experts will be on hand to give you all the information you need. Visit us on Stand A1-102 in the Rothaus Hall A1, which is dedicated to e-mobility solutions.
There is also an opportunity to test drive our two and three-wheeled e-bikes on the test track (Open air area East, Stand 209).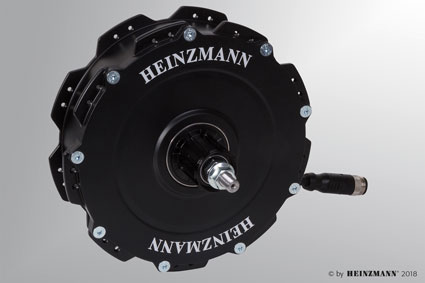 HEINZMANN cargo power motor CargoPower RN 111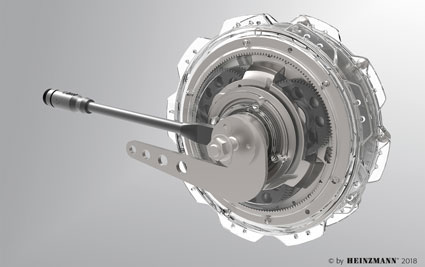 Transparent illustration of HEINZMANN cargo power motor CargoPower RN 111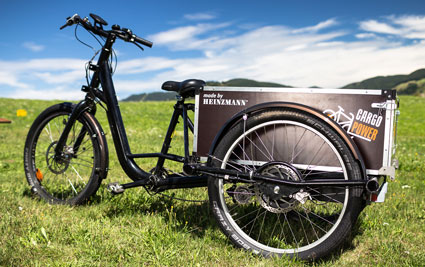 CargoPower RN 111 applied on Triliner

Contact und press requests:
This email address is being protected from spambots. You need JavaScript enabled to view it.