June 2020
HEINZMANN supplies new compact and powerful wheel hub drive systems for autonomous transport units up to 1000 kg load.
Conveying loads is one thing, but moving them to a specific location is another. Conveyor belts and other rigid, stationary facilities are therefore increasingly being replaced by flexible, autonomous transport units in modern intralogistics (Fig. 1). For cost-efficient operation, these Automated Guided Vehicles (AGV) depend on durable, powerful and very compact drives, which are also suitable for robotics and light-weight electric vehicles..
A new wheel hub motor with integrated transmission, developed by drive system manufacturer HEINZMANN in close cooperation with the transmission specialists from Framo Morat GmbH & Co. KG, is now setting standards with regard to driving force, load capacity and, above all, compact size. The solution is extremely compact and robust, as all of the components of the PMSG 066F-060 drive, from the motor to the transmission and the output shaft – together with the bearing – were planned as a single unit in a common housing. This means that up to 500 kg (5,000 N) is no problem for each wheel even in rough operation. With an axial length of just 110 mm and a wheel diameter of 160 or 200 mm, this self-cooling drive unit is both space-saving and lightweight – weighing just 7.5 kg. With protection class IP67, it is suitable for all areas of intralogistics. The compact drive system is equipped with single-stage or two-stage transmissions and provides a maximum drive torque of up to 120 Nm with a transmission ratio of 1:32. The robust motor and transmission design guarantees a service life of 20,000 h.
Efficient and easy to integrate
A 2-channel motor controller, specifically designed for the system, controlst wo drive wheels on one axle. The steering is based on the use of different speeds for the two drive wheels. In master / slave mode, two axles can also be controlled and thus a four-wheel steering can be realised. An electrical differential, torque vectoring and recuperation are standard features of this system. It is also possible to program the controller to meet the needs of the individual customer and to personalise the drive equipment, for example, with an additional mechanical parking or service brake, a high-resolution encoder, and much more.
Technology box: At a glance
The AGV motors are available with a 24, 36 or 48 V supply voltage at a power output of 0.4 kW per each motor, which means the drive can be adapted to the exact requirements of the application. The nominal motor speed of 1,500, 3,000 or 4,500 rpm is reduced by single-stage or two-stage planetary gear transmissions with a reduction ratio 1:4 up to 1:32, so that a nominal torque of up to 120 Nm in total is transferred to the wheels on the output shaft.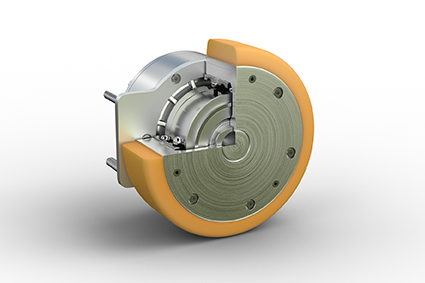 HEINZMANN AGV Drive PMSG 066F-060:
Disc motor wheel hub drive with completely integrated planetary gear
(Source of Image: Heinzmann GmbH & Co. KG)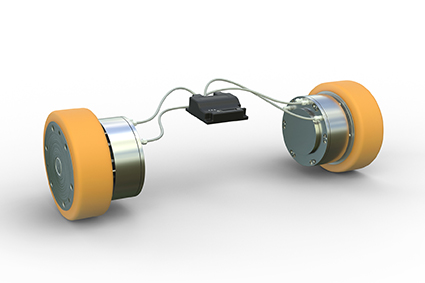 HEINZMANN AGV Drive System:
The motor controllers are precisely tailored to the drive system and, in addition to speed control, perform the functions of electronic differential, torque vectoring, regenerative braking, etc.
(Source of Image: Heinzmann GmbH & Co. KG)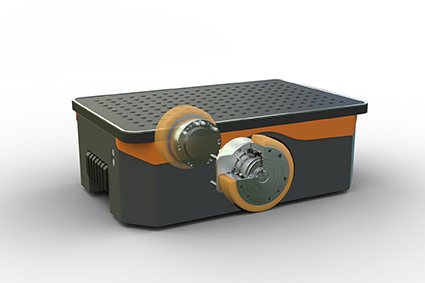 HEINZMANN AGV Drive System Application:
Modern AGVs require robust and intelligent drives.
(Source of Image: Heinzmann GmbH & Co. KG)
Contact and press requests:
This email address is being protected from spambots. You need JavaScript enabled to view it.